Description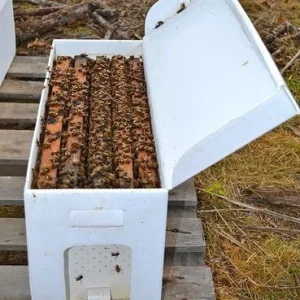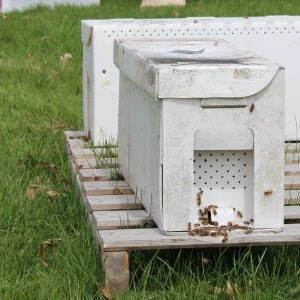 A nucleus (nuc) colony is a great way to get a start on a new colony over package bees.  It includes 5 frames of bees, a laying queen, honey/nectar, pollen, and between 2-4 frames with brood on them.
Total due upon pick-up. (Cash, Check or Credit/Debit) Price includes nuc box and no frame exchange. Pick up location and date(s) to be determined, and will be communicated as soon as possible to allow you to make arrangements. Pick up will be scheduled in late April as weather conditions allow, and there could be more than one date for pickup as the bees fill out the frames down in Florida. Saturday and/or Sunday pickups will be the target day(s) of the week to accommodate as many people as possible.
Orders will be filled in the order they are received, and prepaid orders will take priority.  If orders exceed inventory, refunds will be made promptly.  Please allow up to 10 days for refunds.
Please note** Bees are livestock, and their survival and success rely on your promptness installing them, and the care they receive between pickup and installation. We will address any problems as they arise, but no guarantee is expressed or implied after you take possession of the colony.